As an Amazon Associate I earn from qualifying purchases.
Introduction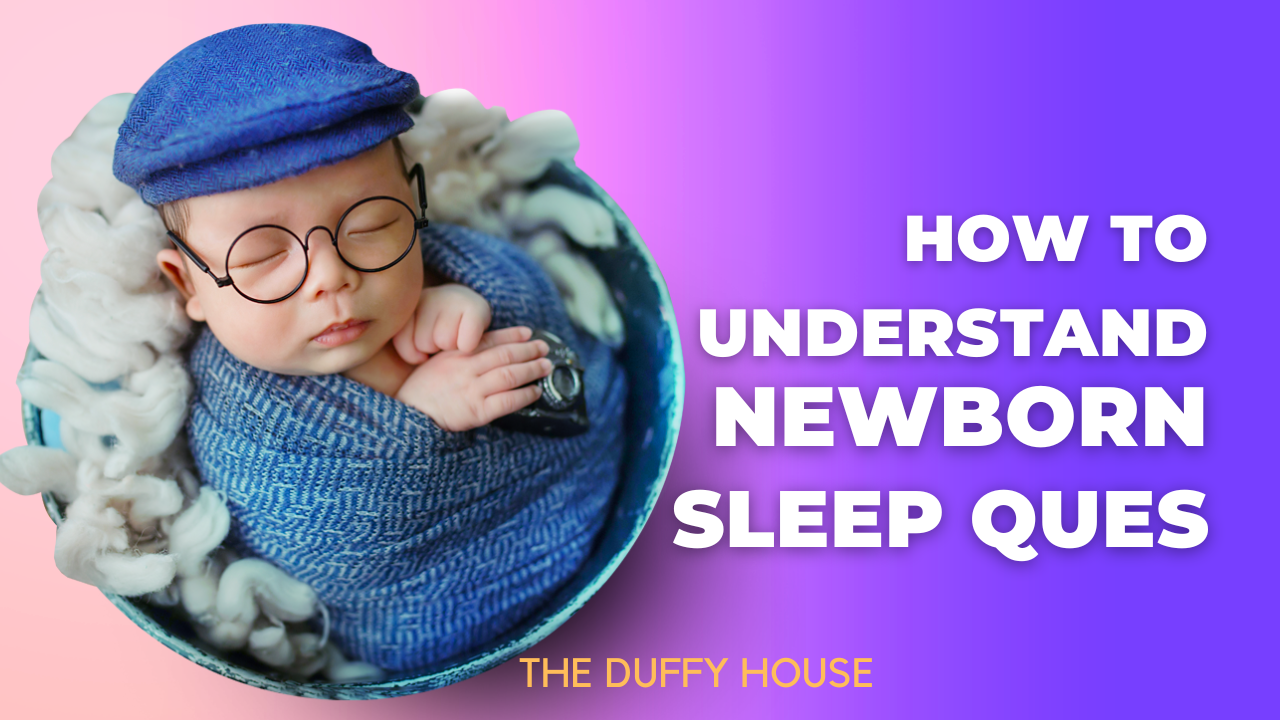 Ah, the joy and wonder of welcoming a newborn into your life – a journey filled with precious moments and a few head-scratching challenges. Understanding your little one's sleep cues shines like a guiding star among many baby-care mysteries. In this all-encompassing guide, we will dive headfirst into the enchanting realm of newborn sleep cues. We'll decode their significant sleep cues and give you the knowledge to transform those restless nights into serene slumber.
What Are The Newborn Sleepy Cues?
Picture this: your newborn, a master of non-verbal communication, sends you signals that unlock the secrets to their slumber. These signals or cues are your baby's way of saying, "Hey, it's naptime!" Let's decode these signals based on your newborn's age so you can tailor baby sleep to your baby's needs.
0 to 3 Months:
In the first three months, your little one might show signs like:
Yawning: Just like you, babies yawn when they need to sleep. A sleeping yawn is like an adorable cue card.
Fluttering Eyelids: Those tiny fluttering eyelids are like a neon sign saying, "Dreamland, here I come!"
Decreased Activity: With exhaustion, your bundle of joy can go from whirlwind to gentle breeze. Regular movements are reduced when babies need sleep.
Gazing Off: If your baby starts staring into the distance, they're probably daydreaming about a cozy nap.
3 to 6 Months:
As your baby crosses the 3 to 6-month threshold, their cues might morph into:
Rubbing Eyes: Those cute little hands rubbing their eyes? Translation: "Mom, Dad, it's time to recharge!"
Pulling at Ears: Ear-pulling isn't just for teething – it can also mean your baby is tugging their way into slumberland.
Fussiness: When fussiness steps into the scene, it's like your baby's way of saying, "Put me to bed, folks!"
Clinging: If your baby clings to you like a tiny koala, they seek comfort before embarking on a sleep journey.
Importance of Understanding Newborn Sleep Cues
Cracking the sleep cues isn't just about being a parental wizard – it's about ensuring your baby gets the sleep they need for healthy growth. Responding promptly to these cues can create a peaceful sleep environment that helps your little one sleep better.
The Difference Between Newborn Sleep Cues and Tired Cues
Think of sleep cues as your baby's gentle way of saying, "I'm getting sleepy." Tired cues, on the other hand, are like a neon warning sign that says, "I'm overtired!" Mastering this distinction is like having a sleep superhero power.
Using Newborn Sleep Cues for Better Sleep
Ready to embark on a sleep-cue-fueled adventure? Here's your guide:
Watch and Learn: Observe your baby's behavior throughout the day – they might be dropping sleep hints left and right.
Craft a Pre-Sleep Ritual: Create a calming routine before sleep, like dimming lights, soft lullabies, or a cozy snuggle.
Craft a Cozy Sleep Nook: Ensure your baby's sleep haven is a tranquil oasis – quiet, comfortable, and oh-so-cozy.
What to Do If You Miss the Newborn Sleep Cues?
Missed the Sleepy Train? Here's What to Do
Even the most vigilant parents occasionally miss a sleep cue. If that happens, watch out for signs of fussiness, irritability, or that adorable eye-rubbing – they're your cues to cue the sleep routine.
Cracking the Code of Newborn Sleeping Patterns
Understanding your baby's sleep patterns is like holding the key to a treasure trove of peaceful nights. Behold:
Daytime Pattern:
In the daytime, expect a series of mini-naps, varying in length from brief power naps to slightly longer siestas.
Nighttime Pattern:
Nighttime is where the magic happens. As your baby grows, they'll embrace longer stretches of sleep, creating a symphony of quiet nights.
What If I Never See Sleepy Cues?
If your baby's sleepy cues are playing a game of peekaboo, don't stress. Some babies are just masters of subtlety. In such cases, they rely on their consistent sleep patterns and routines.
FAQ:
Que: How much sleep is "enough" for a newborn?
Ans: About 14 to 17 hours every day, which includes those important daytime naps.
Que: When's the sleep training green light?
Ans: Generally, wait until your baby reaches 4 to 6 months before embarking on the sleep training adventure.
Que: How do I know if my newborn is awake or asleep?
Ans: Observe for gentle movements, open eyes, and alertness for wakefulness. Closed eyes, stillness, and calm indicate sleep.
Que: How can I get my newborn to sleep more?
Ans: Create a cozy sleep environment, follow a consistent routine, swaddle your baby, and ensure a comfortable feeding and diapering schedule to help your newborn sleep longer.
Final Thoughts
Understanding the newborn sleep cues is akin to finding the golden ticket to a sleep utopia. By tuning into your baby's silent signals and crafting a sleep haven just for them, you're setting the stage for a lifetime of peaceful nights and refreshing mornings. Remember, every baby has their unique sleep language, so embrace the journey with patience and a sprinkle of baby giggles. Your mastery of sleep cues is bound to create a symphony of sweet slumber for your precious one.
Amazon and the Amazon logo are trademarks of Amazon.com, Inc, or its affiliates.